MoveU is a tri-campus initiative at the University of Toronto with teams on the St. George, Scarborough and Mississauga campuses.
At MoveU, our goal is to encourage physical activity and promote a healthy active lifestyle while allowing students to explore their environment and interact with their peers. MoveU teams on St. George, Scarborough and Mississauga campuses hold special events, give away fitness focused swag and can point you in the right direction to the find the class or activity that's best for you.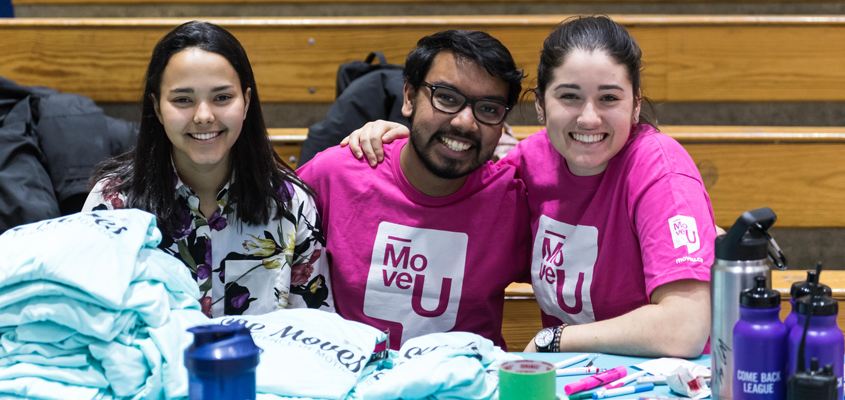 ---
Services
Want to add some physically active fun to your event? MoveU has an amazing crew ready to improve your students' experience!
Fill out the MoveU request form to book MoveU for your next campus event.
Some of the experiences we offer include:
Mobile MoveU
Ideal for groups of 10-80, these drop-in classes are led in your own space. Each faculty or college can have up to four free sessions. Subsequent sessions cost $25 to $45, depending on the activity and the instructor. Equipment rental pricing is also available. See the order form for a list of available sessions.

MoveU Tours
Want a beginner-friendly tour of the athletics and recreation facilities on campus? The MoveU Crew can get you and your student group acquainted with your workout space and lead you through some beginner exercises.

MoveU Movement Break
Incorporate a MoveU Movement Break into your next event or class to reactivate the mind and body. Movement Breaks allow students to take a break from sitting and get active for 5-15 minutes. Students who participate in breaks are better able to focus and primed for academic success. Book your break at moveucrew@utoronto.ca.
MoveU Workshops
Add a MoveU workshop to your next orientation week, event, or hold one all on its own. Workshops accommodate up to 100 students and touch on physical activity and its intersections with topics like mental health, nutrition and academic success. These sessions inform students of resources on campus that encourage an active lifestyle.

Can't find what you're looking for? Contact the MoveU crew at moveucrew@utoronto.ca and we'll work with you to create a unique experience for you and a group of friends/your student group!