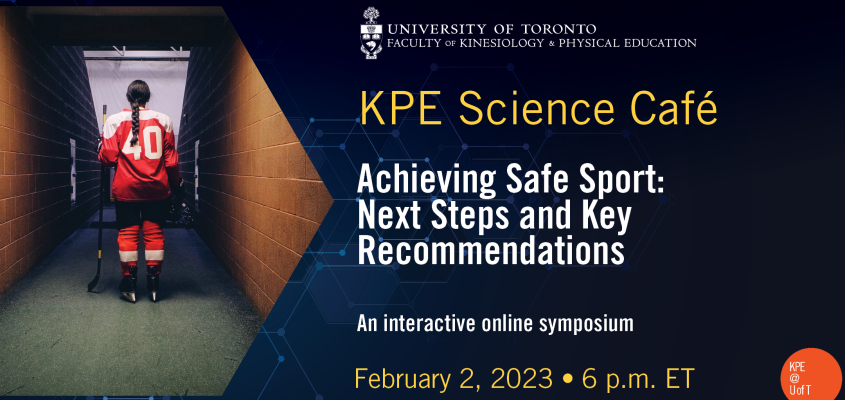 Open to All KPE Students
Open to Alumni
Open to U of T community
Open to U of T students
The Canadian sport landscape is rife with challenges. Among them are the widespread maltreatment of athletes and other participants; the woeful lack of access and participation by women and girls; and the lack of accountability and transparency in governance.
But there is a way forward.
Recently, U of T experts Bruce Kidd, Gretchen Kerr, and Peter Donnelly submitted a brief to the federal government outlining these challenges and providing key recommendations for advancing safe, healthy, inclusive and welcoming sport.
Tune in on February 2nd for a free, interactive online discussion with experts from U of T's Faculty of Kinesiology and Physical Education. Our experienced panelists will share recommendations for education, policy, fair and transparent complaint processes, support for survivors of maltreatment, and funding.
Don't miss this dynamic discussion, moderated by Professor Bruce Kidd, on how to realize the promise of safe sport in Canada.
Panelists
Gretchen Kerr is a professor and the dean of the Faculty of Kinesiology and Physical Education at the University of Toronto and a co-director of the Canadian Gender Equity in Sport Research Hub. She has devoted her career to researching maltreatment, gender-based violence and promoting safe, equitable sport opportunities for all. Gretchen's recent work includes a prevalence study of maltreatment among national team members and contributions to the Universal Code of Conduct to Prevent and Address Maltreatment, a policy mandated by Sport Canada for all national sport organizations.
Adam van Koeverden is Member of Parliament & Parliamentary Secretary to the Minister of Health and to the Minister of Sport. A dedicated community leader and one of Canada's most accomplished athletes, he has represented Canada at four Summer Olympic Games. In addition to being a world, Olympic, and Canadian champion, he has volunteered extensively for organizations like Right To Play, WaterAid, Special Olympics Canada, and the David Suzuki Foundation. He also served as a member of the Government of Canada Working Group on Gender Equity in Sport, promoting safe sport and addressing gender-based violence. 
Erin Willson is a doctoral student at U of T's Faculty of Kinesiology and Physical Education (KPE), a former Olympian and president of AthletesCAN, the association of Canada's national team athletes. Her research interests include maltreatment in sport, athlete empowerment and advocacy.
Bob Copeland is senior vice-president at McLaren Global Sport Solutions. He previously served as athletic director at the University of Waterloo in Ontario, where he dealt with one of the largest doping scandals in Canadian University Sport. He is an experienced leader in sport management in Canada specializing in university, amateur and community based sport.
Registrants will receive a link to access the online symposium a few days before the event.
---
KPE Science Café is an ongoing series, where researchers from the Faculty of Kinesiology and Physical Education share their expertise with the community in an accessible way. Stay tuned for more KPE Science Café events!