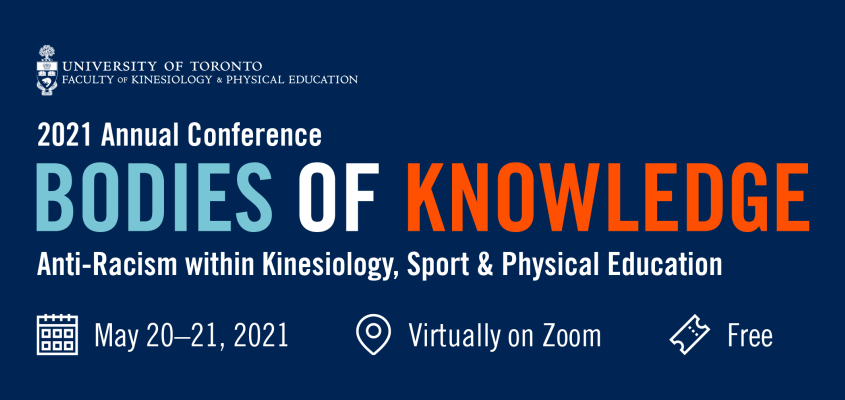 Open to KPE Graduate
Open to U of T community
Open to U of T students
BOK is a conference run by graduate students, for graduate students, covering a broad spectrum of inter- and multi-disciplinary issues related to health, sport, and physical activity.

As a result of the current pandemic and public safety restrictions, this year's conference will be held virtually through Zoom on Thursday, May 20th and Friday, May 21st, 2021. 
Conference Theme
The 2021 BOK conference theme will be Anti-Racism in Kinesiology, Sport, & Physical Education. The global pandemic shed light on the many individual and systemic inequalities that exists for equity-deserving groups; however, beyond the COVID-19 pandemic, 2020 also brought much-needed coverage and conversations towards ongoing racism that the Black, Indigenous, and other communities of color continue to be subjected to. The areas of health, sport and physical activity are no exception to the discrimination faced by Black people, Indigenous people, and other equity deserving groups. The 2021 BOK conference will look to highlight research and researchers whose frameworks, attitudes, and values are rooted in intersectionality and anti-racism in kinesiology, sport, and physical education.
Who Should Attend?
The 2021 BOK conference is open to all undergraduate and graduate students, researchers, and members of the general public. Programmers, policymakers and others are also encouraged to attend. 
Speakers and Workshops 
The BOK Planning Committee is excited to announce the following speakers, panelists, and workshops as part of the BOK 2021 Conference:
Keynote: Dr. Latisha Brown, Virginia Tech - "We are because they live(d): On anti-racism as theory and practice in sports"
Panelists: Dr. Janelle Joseph (University of Toronto), Dr. Courtney Szeto (Queen's University), Dr. Tricia McGuire-Adams (University of Ottawa)
Workshops:

Dr. Tara-Leigh McHugh, University of Alberta - Grant Writing
Dr. Caroline Fusco and Dr. Catherine Amara, University of Toronto - "The 'AH-HA' moment: Coming to an Anti-Oppression positionality in research and teaching"

Student presentations will be broken up into 5 main sessions:

Race and Sport, including presentations on Muslim women in sports, Indigenious girls and women's experience in hockey, and a presentation by the U of T BIPOC Varsity Association.
Institutional Discrimination, with presentations on the Hockey Diversity Alliance, Colin Kaepernick and Nike, and the dismantling of Whiteness in Kinesiology.
Feminist Studies, with presentations on sport programming for Refugee young women, and identity construction of female athletes through social media.
Intersectionality, with presentations on the sport environment and belonging in equity deserving groups.
Chronic Disease and Health, with presentations on the healthcare environment and various diseases from a social justice perspective.